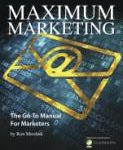 Get the book on data-driven marketing campaign creation. Want response? Want sales? Want loyal customers? Want data for your team? Adopt the proven concepts that rapidly turn prospects into customers.
MAXIMUM MARKETING: THE HIDDEN SECRETS, PROVEN TACTICS, KILLER STRATEGY AND TESTED TECHNIQUES FROM A MASTER. THE ONLY HOW-TO, STEP-BY-STEP MANUAL FOR RESPONSE-BASED MARKETING.
Written by DM legendary copywriter Ron Marshak, this manual is the basis for the smash hit one-day workshop, Creating Direct Marketing That Really, Really Works. This seminar has been presented more than 50 times in Canada by DM magazine.  Used as the course text, the hands-on workbook can be used by any member of your team to create fool-proof ads in print, online, for the web…in any channel.
JUST $95.00 PLUS HST ($107.35)
We have copies ready to ship. Get yours within a day.
Order now and we will have your copy delivered to you immediately. Payment by credit card accepted today.  DM Magazine, 302-137 Main St N, Markham, ON. L3P 1Y2.
Order online by completing the form today.